Majority of NAND controllers which we can find in removable flash devices are using simple static XOR keys. Except the controllers which are using dynamic XOR keys there are also Chipsbank controllers which are using sophisticated adaptive scrambling algorithm.
These controllers adjust and transform every recorded structure using different XOR key. In such cases XOR key
couldn't be extracted from the dump and removal of the transformations requires additional elements.
I
n this short article you will find explanation how to remove XOR transformation for devices equipped with Chipsbank(CBM) controllers which are using adaptive XOR keys.
There are few models of CBM controllers on the marker and not all of them are using adaptive XOR keys. Below you will find the list of models and type of used data transformation.

Adaptive scrambling algorithm in Chipsbank(CBM) controllers
Scrambling algorithm of CBM controllers consist of two elements. First is Static XOR key which is generated each time with the same sequence and on top of that we have adaptive algorithm which adjust XOR key depending on the entropy of the recorded data. In result every structure in the dump is scrambled by two keys, static key and adaptive which will differs based on recorded data.
Chipsbank adaptive XOR scrambling model


Removal of XOR transformation in VNR looks similar to the cases with Phison controllers which are using dynamically generated XOR keys. At first it's necessary to find and attach Static key and connect element which will remove adaptive XOR key for every structure in the dump.

Detection of the Static XOR key
The same way like for majority of the controllers which are using static keys, XOR can be found with usage of XOR analyzer.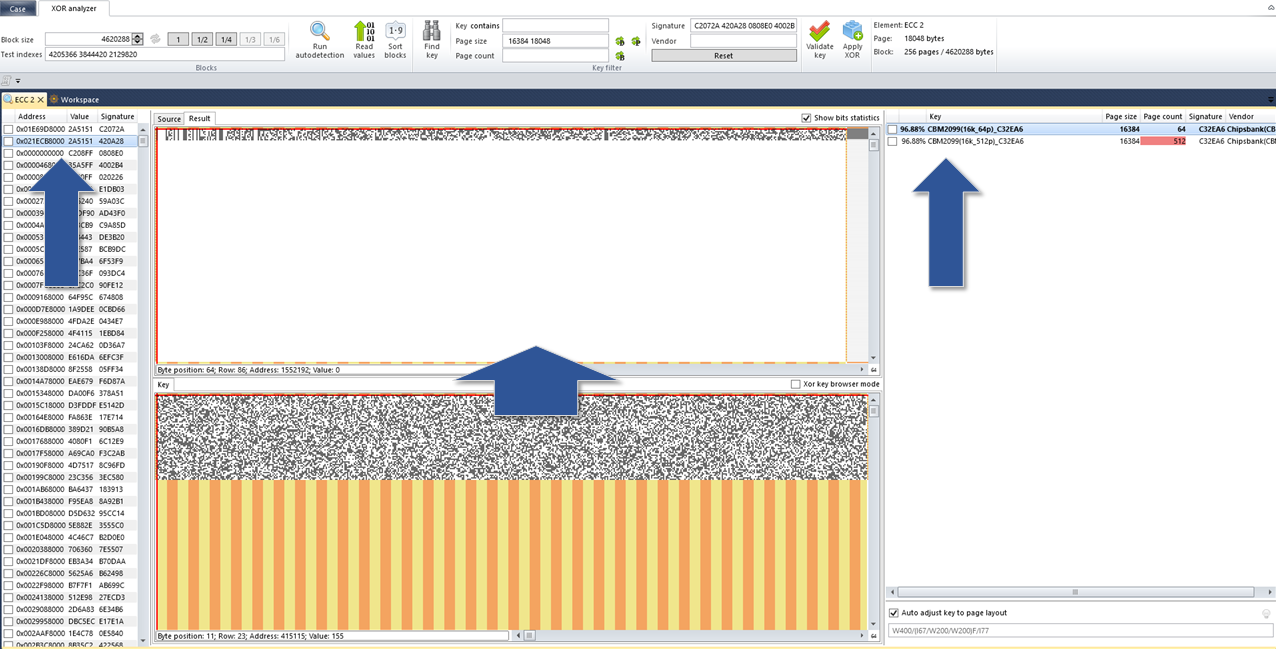 When static XOR key has been found and applied it's necessary to remove adaptive variant of XOR key from the dump. For this propose
CBM XOR
element have to be attached after Static key.
This element doesn't have any parameters to adjust, after element is connected every structure will be descrambled automatically.


For
proper functionality of CBM XOR element page structure it's necessary to set page structure.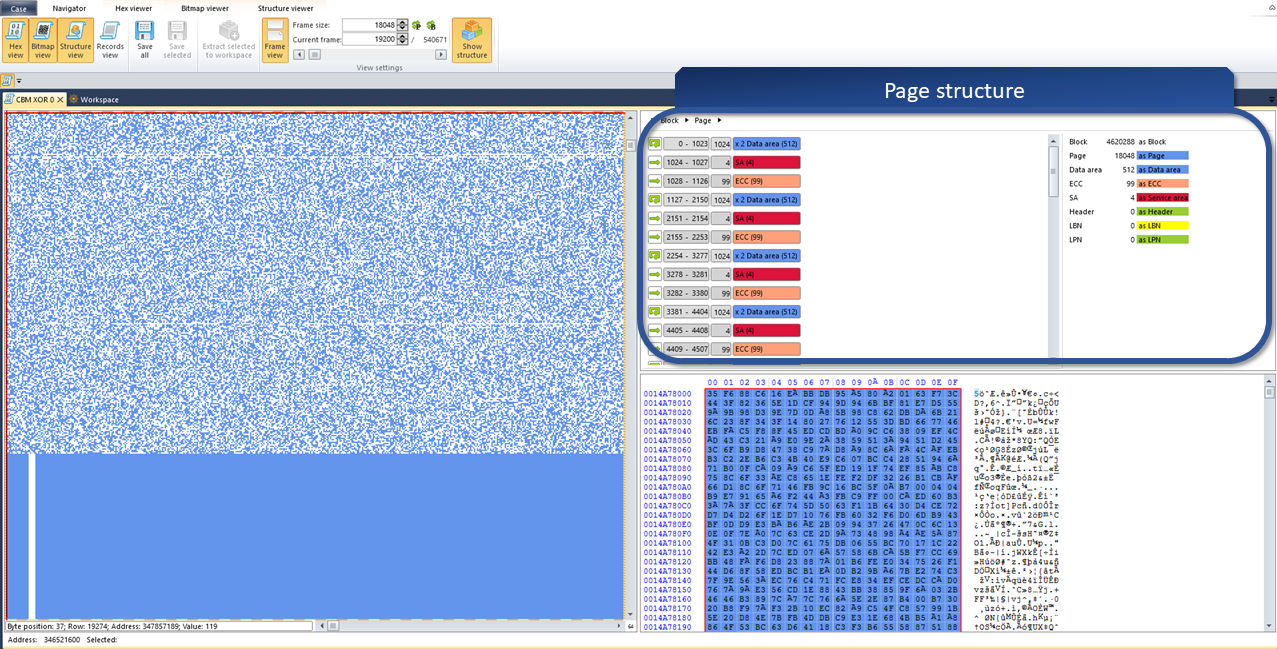 Dump analysis after applying CBM XOR
Adaptive CBM XOR element perform many complicated calculations in the background in result it consume a lot of PC resources and may significantly slow down work in VNR.
To speed up the process of dump analysis and make work in VNR much more smooth we recommend to save the dump from CBM XOR element. Later on descrambled dump can be loaded to VNR and processed separately.

To save the dump, click on CBM XOR element and from Navigator tab click Save All.
After the dump will be saved it's necessary to load it to VNR. To do that click on open image in VNR workspace and chose previously saved dump.

Newly loaded dumps will doesn't contain structure (Blocks/Pages/Data areas/ECC areas), it's necessary to copy it from the previous element. Click on CBM XOR element from which dump was saved, RMB and copy structure.


After that this structure have to be pasted to recently loaded dump.


Image with proper structure shall be processed further in the same way like every case after XOR transformation is removed.